Judge Sara J. Harper (born August 10, 1926) is a former member of the Eighth District Court of Appeals.
Sara Harper is African-American and was raised in a public housing project in Cleveland, Ohio. Judge Harper grew up in the Outhwaite Estates along with Mayor Carl Stokes and Congressman Louis Stokes.
Judge Harper is the first black woman graduate of the Case Western Reserve University Law School; the first woman to serve on the judiciary of the U.S. Marine Corps Reserve; one of the first two women to win a seat on the Ohio Court of Appeals; and the first black woman to sit by assignment on the Ohio Supreme Court.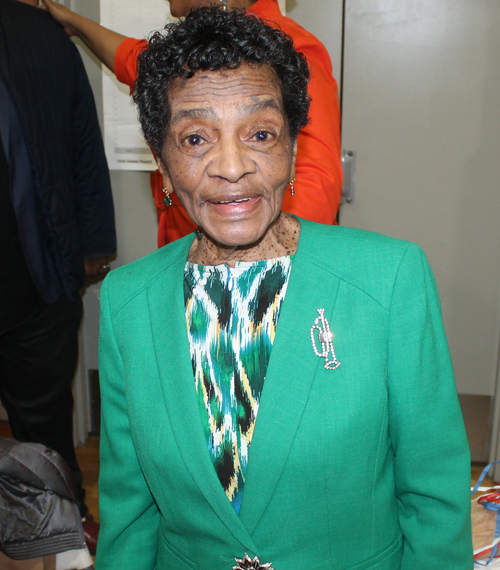 Harper worked as a prosecutor for the city of Cleveland in the 1960s. In 1970 she was appointed a judge of the Cleveland Municipal Court by Ohio Governor James A. Rhodes, a position to which she was elected for a six-year-term in 1971. In 1980 Harper was the Republican Candidate for Chief Justice of Ohio. She also ran for a seat as a Justice on the Ohio Supreme Court in 1994. She was president of the Cleveland branch of the NAACP for some of the 1980s. For a time she served in the United States Marine Corps judiciary. In 1990 she became a member of the Ohio Court of Appeals.
Judge Sara J. Harper founded the Sara J. Harper Children's Library in 1992 at CMHA's Outhwaite Homes on East 43rd Street.
The mission of the library is to provide a safe environment that encourages and promotes reading, learning, and positive avenues for self-realization. It is located at 2453 East 43rd Street, Cleveland, Ohio 44104.
Photos and videos of Judge Harper being honored during Black History Month by the Republican Party.