Carl B. Stokes served as the 51st mayor of Cleveland, Ohio. Elected on November 7, 1967, and taking office on January 1, 1968, he was the first black elected mayor of a major U.S. city.
(Fellow Ohioan Robert C. Henry was the first black mayor of any U.S. city (Springfield, elected 1966).)
Carl Stokes and his brother Louis Stokes were raised in Cleveland's first federally funded housing project for the poor, Outhwaite Homes.  Carl was elected to the Ohio House of Representatives in 1962 and served three terms. Stokes narrowly lost a bid for mayor of Cleveland in 1965. His victory two years later drew national attention, as he was the first black mayor of one of the ten biggest cities in the United States.
Able to mobilize both black and white voters, Stokes defeated Seth Taft, the grandson of former President William Howard Taft, with a 50.5% margin. At the time of his election, Cleveland was a majority white city with a 37% black population.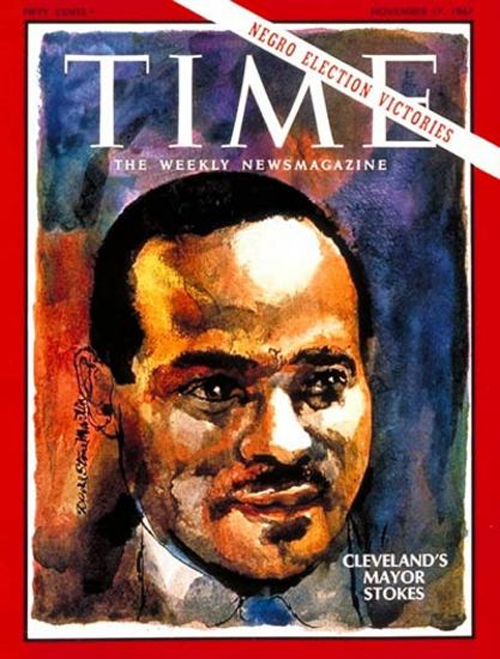 From 1983 to 1994, he served as municipal judge in Cleveland. President Bill Clinton then appointed him U.S. Ambassador to the Republic of Seychelles. Stokes was awarded 12 honorary degrees, numerous civic awards, and represented the United States on numerous goodwill trips abroad by request of the White House. In 1970, the National League of Cities voted him its first black president-elect.
He was diagnosed with cancer of the esophagus while serving as Ambassador to the Seychelles and placed on medical leave. He returned to Cleveland and died at the Cleveland Clinic. His funeral was held at Cleveland Music Hall, presided over by the Rev. Otis Moss.
He is buried at Cleveland's Lake View Cemetery, where is grave marker says "Ambassador Carl B. Stokes". Each June 21 on the anniversary of his birth, a group of Clevelanders celebrate his life at the grave site.
The Carl B. Stokes Federal Court House Building is a 23-story building located at the corner of Huron Road and Superior Avenue. It is currently the fourth tallest United States courthouse in the country.
The building is adorned by Cleveland Venus, a 37-foot tall bronze sculpture created by Ohio artist Jim Dine. The headless and armless statue is one of the sculptor's variations on the Venus de Milo.