Stephanie Tubbs Jones was the first African-American woman to be elected to Congress from Ohio.
Stephanie Tubbs Jones, a Cleveland native and a graduate of Case Western Reserve University, was the first African American woman elected to represent Ohio in Congress. She was a Democrat, and represented Ohio's 11th Congressional District
In 1998, Tubbs Jones won the Democratic nomination for the 11th District after 30-year incumbent Louis Stokes announced his retirement. This all but assured her of election in the heavily Democratic, black-majority 11th. She was reelected four times with no substantive opposition.
There is a statue of Congresswoman Tubbs Jones near Wade Oval in University Circle.  This sculpture is in the Stephanie Tubbs Community Plaza, dedicated in 2010. The statue is bronze and life-size. The congresswoman is depicted in a relaxed pose on a curved park bench with mosaic inlays. She is seated, smiling, and leaning slightly on one arm. She is wearing a shell, blazer, slacks, and boots.
East 108th and Magnolia Drive in Cleveland.
Tubbs Jones was elected a judge of the Cleveland Municipal Court (1981) and subsequently served on the Court of Common Pleas of Cuyahoga County (1983–91). She served as the Cuyahoga County Prosecutor from 1991 until resigning in early 1999 to take her seat in Congress.
Tubbs Jones was a co-chairwoman of the Democratic National Committee. She opposed the Iraq war, voting in 2002 against the use of military force. Despite representing a heavily unionized district, she was a strong proponent of free trade.
On December 19, 2006, Tubbs Jones was named Chairwoman of the House Committee on Standards of Official Conduct for the 110th Congress. She was also a member of the House Ways and Means Committee.
On August 19, 2008, Tubbs Jones was found unconscious in her car, having suffered a cerebral hemorrhage caused by a burst aneurysm. She was taken to an East Cleveland hospital, where she died the next day.
On Oct. 19, 2010, RTA dedicated the $9.3 million transit center in honor of Congresswoman Stephanie Tubbs Jones.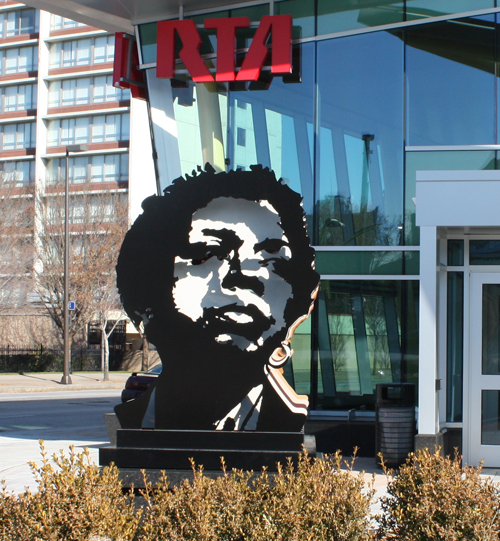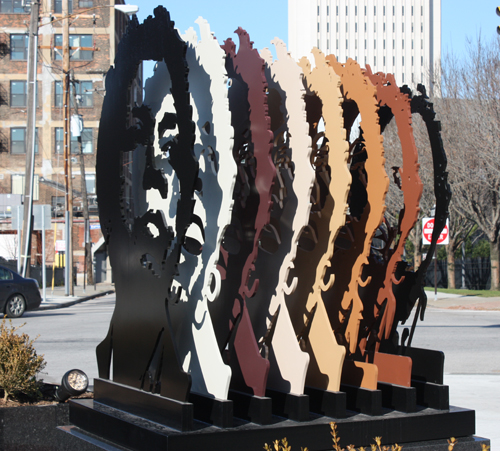 The sculpture is at 2110 Prospect Ave in Cleveland.