President James Garfield was the 20th President of the United States, serving from March 4, 1881, until his assassination later that year. He was an exemplar of the American success story: that even the poorest boy might someday become President of the United States.
President James Garfield was raised in humble circumstances on an Ohio farm by his widowed mother.He was born the youngest of five children in a log cabin in Orange Township, now Moreland Hills, a suburb of Cleveland.
Garfield opposed Confederate secession, served as a major general in the Union Army during the American Civil War, and fought in the battles of Middle Creek, Shiloh, and Chickamauga. He was first elected to Congress in 1862 to represent Ohio's 19th District. Garfield had served nine terms in the House of Representatives, and had been elected to the Senate before his candidacy for the White House, though he declined the senatorship once he was president-elect. He is the only sitting House member to be elected president.
At the 1880 Republican National Convention, Senator-elect Garfield attended as campaign manager for Secretary of the Treasury John Sherman, and gave the presidential nomination speech for him. When neither Sherman nor his rivals – Ulysses S. Grant and James G. Blaine – could get enough votes to secure the nomination, delegates chose Garfield as a compromise on the 36th ballot. In the 1880 presidential election, Garfield conducted a low-key front porch campaign, and narrowly defeated Democrat Winfield Scott Hancock.
President James Garfield was shot by Charles J. Guiteau, a disgruntled office seeker, at the Baltimore and Potomac Railroad Station in Washington, D.C. on July 2, 1881. After eleven weeks of intensive and other care Garfield died in Elberon, New Jersey, the second of four Presidents to be assassinated, following Abraham Lincoln.
Garfield's funeral train left Long Branch on the same special track that brought him there, traveling over tracks blanketed with flowers and past houses adorned with flags. His body was transported to the Capitol and then continued on to Cleveland for burial.
On September 25, 1881, in Cleveland, more than 150,000—a number equal to the entire population of that city— paid their respects. His body and his wife Lucretia's body are interred in a memorial in Cleveland's Lake View Cemetery.
The caskets of the President and Lucretia Garfield lie in a crypt beneath the memorial, along with the ashes of their daughter and son-in-law.
The tomb was designed by architect George Keller utilizing Ohio sandstone, with reliefs depicting scenes from Garfield's life.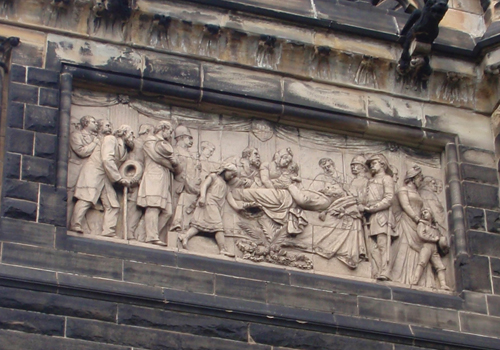 The round tower is 50 feet in diameter and 180 feet high. The interior features stained glass windows, mosaics, and a 12-foot (3.7 m)-tall marble statue of President Garfield by Alexander Doyle. An observation deck provides views of downtown Cleveland and Lake Erie. The monument was added to the National Register of Historic Places in 1973.
There are five bas-reliefs inside the memorial, with more than 108 life-size figures, showing Garfield in the role of schoolteacher, statesman, and president.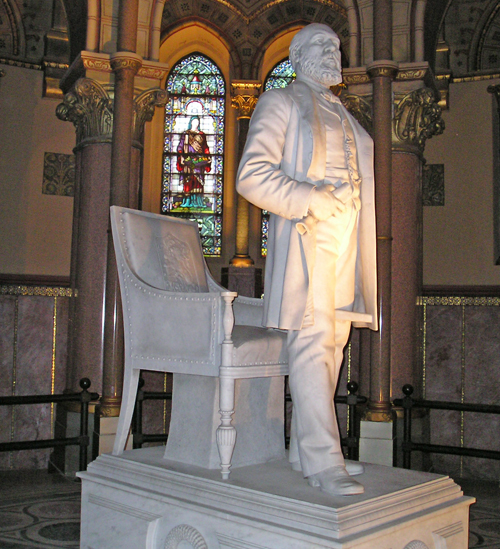 The Garfield Monument at Lake View Cemetery is undergoing a face lift. Here is a photo of the exterior with the scaffolding taken April 2020.