Alan Freed Memorial at Lake View Cemetery
Alan Freed was a Cleveland disc jockey who has been called the "Father of Rock and Roll." He coined and popularized the term "rock and roll" and produced the nation's first rock concert, the Moondog Coronation Ball at the Cleveland Arena, in 1952. This was an important part of the decision to have the Rock and Roll Hall of Fame and Museum built in Cleveland, Ohio.
A memorial was held and an unveiling of a monument at Lake View Cemetery in Cleveland on May 7, 2016. and hundreds of fans and music industry people attended including legendary disc jockey and rock historian Norm N. Nite who served as MC.
Photos and video from the Alan Freed memorial unveiling and concert
Rock and Roll Hall of Fame members The Drifters performed as did 1950's teen idol Jimmy Clanton who appeared in Alan Freed's movie.
Little Steven Van Zandt, known for his work with Southside Johnny, Bruce Springsteen and the E Street Band, solo albums, acting in the Sopranos and his radio show Little Steven's Underground Garage was the keynote speaker.
The Alan Freed memorial monument was designed and created by the Johns-Carabelli Co LTD. of Cleveland.
The front of the monument features an image of Alan Freed and some bio notes.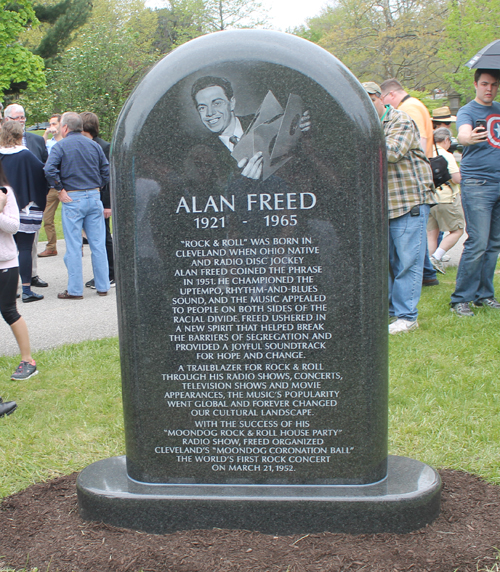 The back of the Alan Freed monument features a jukebox.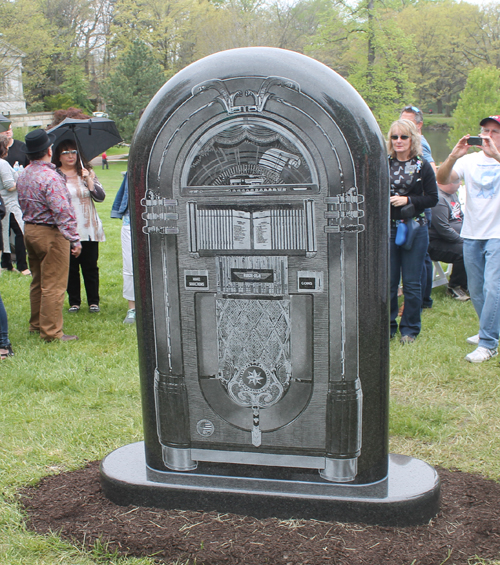 The monument is in the same area as the monument to Eliot Ness, Harvey Pekar and others by Wade Chapel in Lake View Cemetery in Cleveland.
http://www.lakeviewcemetery.com/
12316 Euclid Avenue
Cleveland, Ohio 44106-4393
216-421-2665