Though Eliot Ness became famous for his efforts to enforce Prohibition in Chicago and as leader of a famous team of law enforcement agents nicknamed The Untouchables, Ness spent a lot of time in Cleveland and is buried there.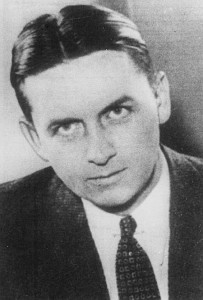 After the conviction of Al Capone, Ness was promoted to Chief Investigator of the Prohibition Bureau for Chicago and in 1934 for Ohio. Following the end of Prohibition in 1933, he was assigned as an alcohol tax agent in the "Moonshine Mountains" of southern Ohio, Kentucky, and Tennessee; and, in 1934, he was transferred to Cleveland.
In December 1935, Cleveland mayor Harold Burton hired him as the city's Safety Director, which put him in charge of both the police and fire departments. He headed a campaign to clean out police corruption and to modernize the fire department.
In 1938, Ness declared war on the mob, and his primary targets included "Big" Angelo Lonardo, "Little" Angelo Scirrca, Moe Dalitz, John Angerola, George Angersola, and Charles Pollizi. Ness was also Safety Director at the time of several grisly murders that occurred in the Cleveland area from 1935 to 1938.
His successful career in Cleveland withered as critics targeted his divorce, his high-profile social drinking and his conduct in a car accident but he continued with the next Mayor, Frank Lausche.  His career finally went downhill, after he attempted to stop the Torso murders by ordering his police force to round up all hobos living in Kingsbury Run before burning the whole place down. The Cleveland Police Department believed that the Run was the pool where the Torso killer was getting all of his prey, but its destruction was met with negative feedback from the whole populace.
After his second divorce and third marriage, he ran unsuccessfully for mayor of Cleveland in 1947
Ness wrote a 21-page manuscript for a book that  is housed in the archives of the Western Reserve Historical Society in Cleveland. The Western Reserve Historical Society houses additional Ness papers, including a scrapbook (1928-1936), copies of newspaper clippings (1935-1950), a typewritten manuscript detailing Ness' career in Chicago, and miscellaneous papers, including a report on the Fidelity Check Corporation and Guaranty Paper, of which Ness was president.
Western Reserve Historical Society, 10825 East Boulevard. Cleveland, Ohio 44106 216-721-5722
Ness' ashes were scattered in one of the small ponds on the grounds of Lake View Cemetery, in Cleveland.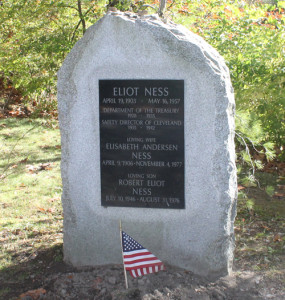 Plot: Section 7, Lot 8 against Dempsey Pond
GPS (lat/lon): 41.50873, -81.59655