North Union Shaker Site is a historic site in Shaker Heights, Ohio. It features this marker about the Shaker Gristmill. The site was founded by Shakers in 1822 and was added to the National Register in 1974.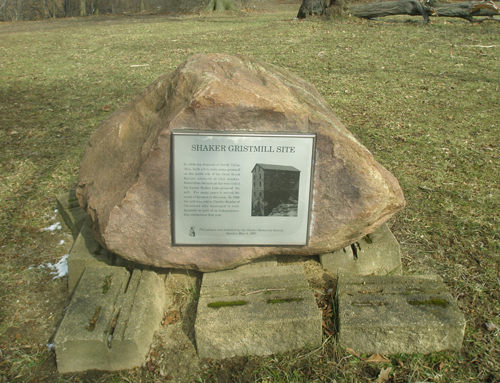 The Shakers ran grist and grain mills from the lakes created when they dammed Doan Creek. Although the terms "gristmill" or "corn mill" can refer to any mill that grinds grain, the terms were used historically for a local mill where farmers brought their own grain and received back ground meal or flour, minus a percentage called the "miller's toll."
Early mills were almost always built and supported by farming communities and the miller received the "miller's toll" in lieu of wages. Most towns and villages had their own mill so that local farmers could easily transport their grain there to be milled. These communities were dependent on their local mill as bread was a staple part of the diet.
Because they practiced celibacy. the Shaker community ceased to exist in 1899. All of the buildings that had been part of the North Union Shaker community have been demolished, and 280 of the original 1,000 acres are Shaker Lakes parkland, which includes walking trails and a Shaker archaeological site, the Shaker Historical Museum and Library.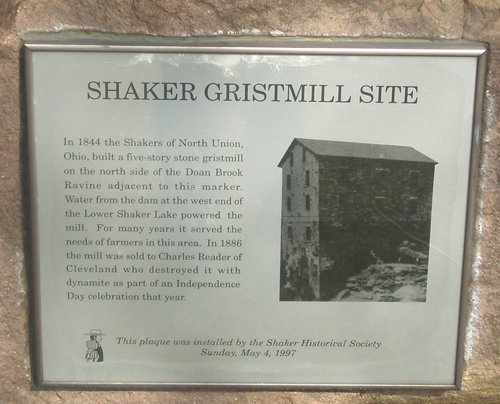 The inscription reads: In 1844 the Shakers of North Union, Ohio, built a five-story gristmill on the north side of the Doan Brook Ravine adjacent to this marker. Water from the dam at the west end of the Lower Shaker Lake powered the mill. For many years it served the needs of farmers in this area. In 1886 the mill was sold to Charles Reader of Cleveland who destroyed it with dynamite as part of an Independence Day celebration that year.
This plaque was installed by the Shaker Historical Society, Sunday, May 4, 1997.