The Old Stone Church is a historic Presbyterian church located in downtown Cleveland, Ohio, and is the oldest building on Public Square. It is also the second church built within the city limits.
In June 1819, the Union Sunday School began meeting on the site of the current church, and on September 19, 1820, fifteen Clevelanders, some ten percent of the then-village's population, signed a charter officially establishing the congregation. It was formally incorporated in 1827 as The First Presbyterian Society, and in 1834 the first church was built out of gray sandstone. The interior featured a gallery suspended by iron rods, reportedly a first in a Cleveland public building, as well as the city's first pipe organ.
The building, of Tuscan-style architecture, was the first stone church in Cleveland and was known as "The Stone Church." Later, as the sandstone darkened, the name became The Old Stone Church.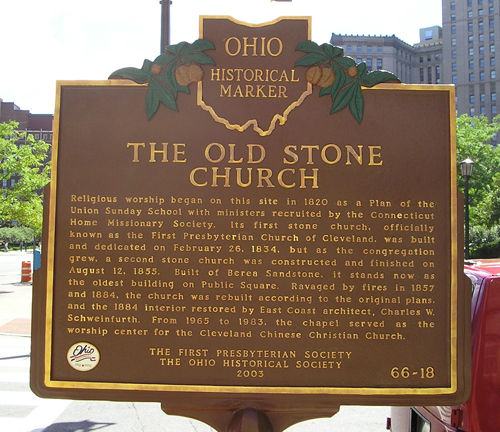 By 1853, the congregation had outgrown the original building, so the church was razed, and a larger replacement was built on the same spot. The Romanesque Revival church, dedicated on August 12, 1855, was also made of local sandstone, and was designed by architects Charles Heard and Simeon Porter.
As Abraham Lincoln's funeral cortege stopped at Public Square, people were called to his memorial service at the church by the tolling of the massive bell (now installed in front of the church, facing Public Square).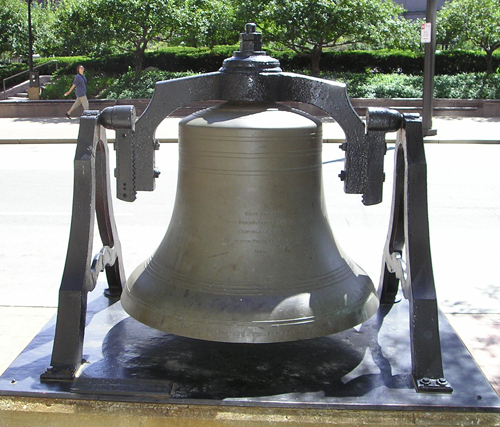 Old Stone is the only remaining building to have been in existence during the lighting of Public Square with Charles Brush's arc light in 1879.
The Old Stone Church was added to the National Register of Historic Places in 1973.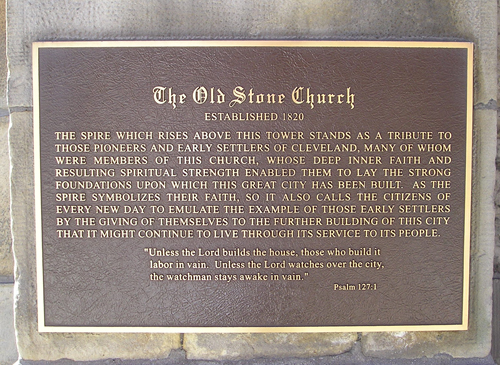 The Old Stone Church has many architectural and historical features such as Amasa Stone Window (1885) and The Williamson Window, "The Recording Angel," by Louis Comfort Tiffany.
The Old Stone Church is in the northwest quadrant of Public Square, at the intersection of Rockwell and Ontario Streets.  91 Public Square  Cleveland, OH 44113
Phone: (216) 241-6145
http://www.oldstonechurch.org