John Carroll University is a private, co-educational Jesuit Catholic university in University Heights, Ohio, , a suburb of Cleveland. It is primarily an undergraduate, liberal arts institution, accompanied by the AACSB-accredited John M. and Mary Jo Boler School of Business.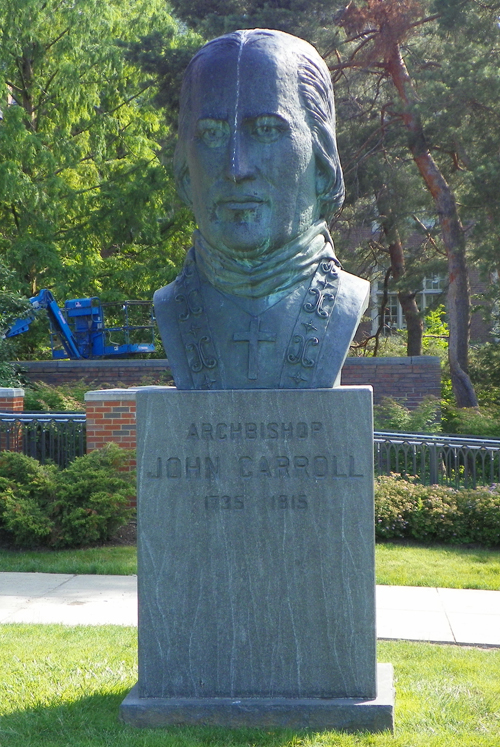 The university has been ranked in the top 10 of Midwest regional universities by U.S. News & World Report's annual guide, "America's Best Colleges," for twenty-five consecutive years.
John Carroll University was founded in 1886 by the Society of Jesuits under the title of St Ignatius College as a "college for men." It has been in continuous operation as a degree-granting institution since that time. In 1923, the College was renamed John Carroll University, after the first archbishop of the Catholic Church in the United States and founder of fellow Jesuit institution Georgetown University. In 1935, it was moved from its original location on the west side of Cleveland to its present site in University Heights, a suburb 10 miles (16 km) east of downtown Cleveland.
More than twenty major buildings, predominantly Collegiate Gothic in architecture and sixty landscaped acres make up the John Carroll campus. The red-brick Administration Building, surmounted by the university's landmark Grasselli Tower, bears clear resemblance to the English royal palace Hampton Court.
The Saint John's Bible, a gift to the University is the only handwritten and illuminated bible commissioned since the advent of printed books more than 500 years ago.
In 1975 Tim Russert '72  booked an unknown artist named Bruce Springsteen to play at John Carroll just prior to the release and success of the Born to Run album. Russert was former NBC News Washington Bureau Chief; host and moderator of Meet the Press.
Other famous alums include
Don Shula – NFL Player and Head Coach.  Named  1993 Sportsman of the Year by Sports Illustrated. The school's football team plays in Don Shula Stadium
Jack Breen – former CEO of Sherwin-Williams
Bob Dickinson – former CEO of Carnival Cruise Lines
Charles Dolan – founder of Cablevision and HBO
Timothy Donahue – former Executive Chairman of Sprint Nextel
Charles Geschke – co-founder of Adobe Systems Inc.
Gymnast Dominique Moceanu, Olympic Gold Medalist
Gold medal Olympic swimmer, Diana Munz
 Howard W. "Hoddy" Hanna, III – Chairman and CEO of Howard Hanna Real Estate Services Inc.
 Richard Kramer – CEO of The Goodyear Tire & Rubber Company
James Myers – CEO of PETCO
John Rooney – former President and CEO of U.S. Cellular
London Fletcher-Baker – professional football player, St. Louis Rams, Buffalo Bills, and Washington Redskins
Peter Goodwin – former Dean, World's Strongest Man
Josh McDaniels – Offensive Coordinator of the New England Patriots, former head coach for the Denver Broncos
Eric Carmen – singer, musician
Jack Riley – comedic actor
1 John Carroll Blvd, University Heights, OH 44118
http://sites.jcu.edu