The Steamship William G. Mather is a retired Great Lakes bulk freighter now restored as a museum ship in Cleveland.  It is one of four in the Great Lakes region.
The Mather transported cargo such as ore, coal, stone, and grain to ports throughout the Great Lakes, and was nicknamed "The Ship That Built Cleveland" because Cleveland's steel mills were a frequent destination.
On 30 July 1995 the Steamship William G. Mather was dedicated as an American Society of Mechanical Engineers National Historic Mechanical Engineering Landmark for her 1954 installation of a single marine boiler and steam turbine engine, her 1964 installation of the Bailey 760 Boiler Control System and American Shipbuilding AmThrust dual propeller bow thruster—all firsts for U.S.-Flag Great Lakes vessels.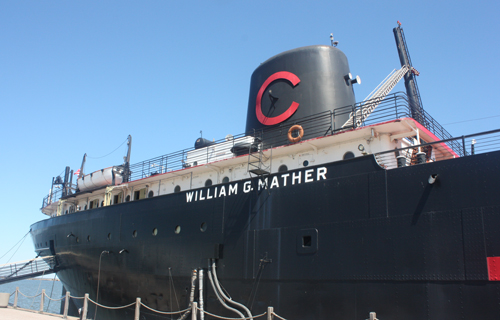 In October 2006, the William G. Mather was acquired by the Great Lakes Science Center. Today the ship is a focal point for interpreting the relationship between technology, history, commerce, and the environment.