The Cuyahoga County Soldiers' and Sailors' Monument is a monument to Civil War soldiers and sailors from (Cleveland) Cuyahoga County, Ohio. Located in the southeast quadrant of Public Square in downtown Cleveland, it opened July 4, 1894.
It was designed by architect Levi Scofield who also created the monument's sculptures. F.F. Schnitzer was the supervising architect who oversaw the creation of the structure. The monument is regularly open to the public free of charge.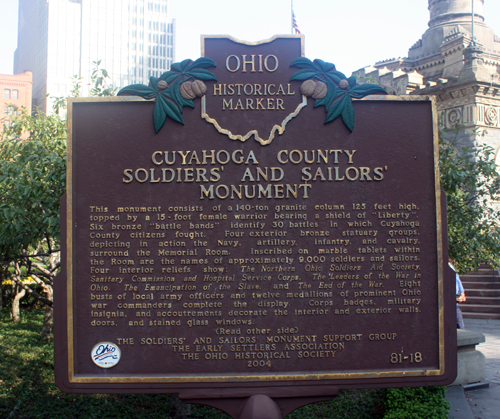 The monument consists of a 125-foot black Quincy granite shaft erected on a square base constructed of rough-hewn granite blocks trimmed in sandstone and housing a memorial building. The shaft divided by six carved bands which list the names of battles in which Cuyahoga soldiers fought and is topped with a bronze statue of the "Goddess of Liberty" signifying loyalty to United States.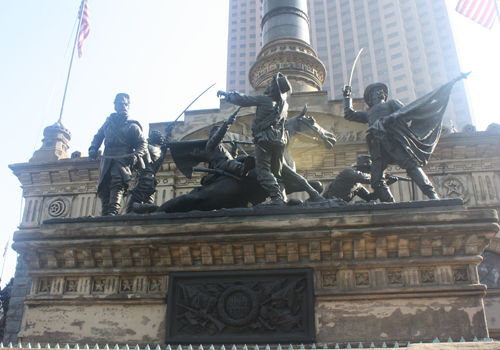 Four bronze groupings at its base depict the four branches of the Union Army— the Navy, Cavalry, Infantry, and Artillery. Inside the memorial building are a series of marble tablets listing 9,000 Civil War veterans that served with Cuyahoga County regiments or were from Cuyahoga County.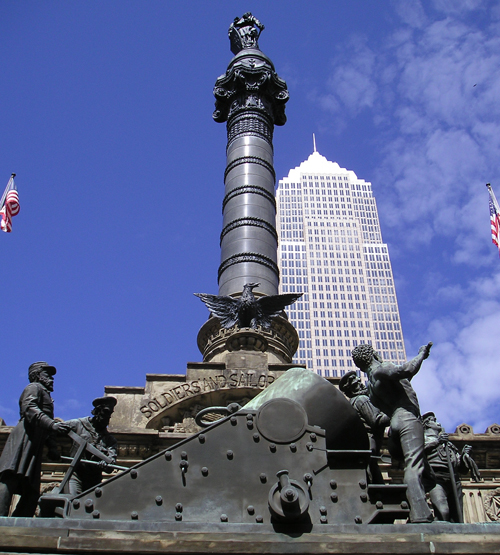 Also inside the base are four bronze relief sculptures depicting the Soldiers' Aid Society, Emancipation of the Slaves, Beginning of the War in Ohio and the End of the War, as well as busts of Col. James Barnett, Scofield, and several Ohio officers who were killed in action during the war.
On May 27, 2021 the Rotary Club of Cleveland hosted Timothy Daley, outgoing Executive Director, Cuyahoga County Soldiers' and Sailors' Monument and the incoming ED Greg Palumbo for a Zoom meeting.  Tim gave a PowerPoint presentation about the monument and then they answered questions.
The Soldiers' and Sailors' Monument commemorates the American Civil War; it consists of a 125′ column surrounded at its base by a Memorial Room and esplanade. The column, topped with a statue of the Goddess of Freedom, defended by the Shield of Liberty, signifies the essence of the Nation for which Cuyahoga County veterans were willing to and did give their lives. Four bronze groupings on the esplanade depict, in battle scenes, the Navy, Artillery, Infantry and Cavalry. Inside the Memorial Room are four bronze relief sculptures:  Women's Soldiers' and Sailors' Aid Society, Beginning of the War in Ohio, Emancipation of the Slaves and End of the War at City Point, Va., as well as busts of Gen. James Barnett and Architect/ Sculptor Levi T. Scofield, together with 6 officers, who were either killed in action, or died of disease or their wounds.
The interior of this old Monument built in 1894 has just been gloriously rehabilitated with its original coloration restored, new lighting, heating, air conditioning and ADA access.  Watch the video of the presentation below:
You can't miss it on Cleveland's Public Square (SE corner)