Hudson is a city in Summit County, Ohio, one county south of Cleveland (Cuyahoga County). It is now an affluent suburb of Akron.
Hudson was founded in 1799 by New England pioneers who brought with them a hatred of the institution of slavery. One influential settler, Owen Brown, was an active Abolitionist and Underground Railroad "Stationmaster", as well as father to controversial abolitionist John Brown, who lived here for twenty years.
In 1973, a large area of the village, "roughly bounded by College, Streetsboro, S. Main, and Baldwin" streets, was listed on the National Register of Historic Places as the Hudson Historic District.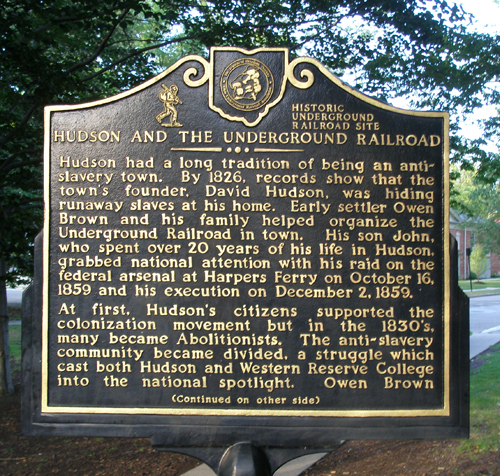 The Ohio Historic Underground Railroad Marker is on the green near the clock tower. It honors Hudson's role in the anti-slavery movement, and was the first such marker for Northern Ohio in May 2000.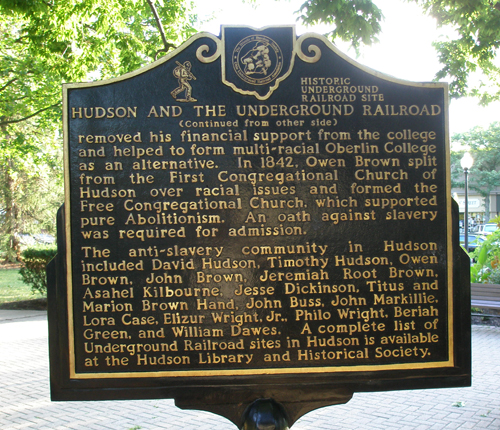 The Free Congregational Church at 5 E. Main St. is where Owen Brown established the Free Congregational or "Oberlin" Church in 1842. Members had to swear they would fight against slavery. John Brown made his last appearance in Hudson in front of this building in the summer of 1859 on his way to Harpers Ferry.
At Old Western Reserve College, College Street and surrounding blocks, north of Aurora St. (now Western Reserve Academy) , Frederick Douglass gave a commencement speech. This was the first college in northern Ohio.
At the age of 5, John Brown's family moved to Hudson. John Brown was an abolitionist who believed armed insurrection was the only way to overthrow the institution of slavery in the United States.
In 1859, Brown led an unsuccessful raid on the federal armory at Harpers Ferry that ended with the multi-racial group's capture. Brown's trial resulted in his conviction and a sentence of death by hanging.
Brown's attempt in 1859 to start a liberation movement among enslaved African Americans in Harpers Ferry, Virginia escalated tensions that, a year later, led to secession and the American Civil War.