Mark Hanna is often credited with the invention of the modern presidential campaign and he is called The Kingmaker.
His campaign for McKinley in 1896 broke new ground because of its highly systematized and centralized nature, as well as for its fundraising success. Although Hanna has been depicted as the first national political boss, historians agree that McKinley dominated the relationship between the two. Nevertheless, Hanna is recognized for his innovative campaign work.
Marcus Alonzo "Mark" Hanna was a Republican United States Senator from Ohio and the friend and political manager of President William McKinley. Hanna had made millions as a businessman, and used his money and business skills to successfully manage McKinley's presidential campaigns in 1896 and 1900.
His family moved to the growing city of Cleveland in his teenage years, where he attended high school with John D. Rockefeller. He was a wealthy man in Cleveland by his 40th birthday, and turned his attention to politics.
In 1895, Hanna left his business career to devote himself full-time to McKinley's campaign for president. Hanna paid all expenses to get McKinley the nomination the following year, although he was in any event the frontrunner.  
McKinley's opposing candidate, William Jennings Bryan, gave over 600 speeches and traveled many miles all over the United States to campaign, but McKinley outdid this by spending about twice as much money campaigning. Throughout the course of the 1896 presidential campaign, McKinley spoke to more than 700,000 supporters in front of his house in Canton.
While McKinley was at his Canton, Ohio, home conducting his "front-porch campaign", Mark Hanna was out raising millions to help with the campaign.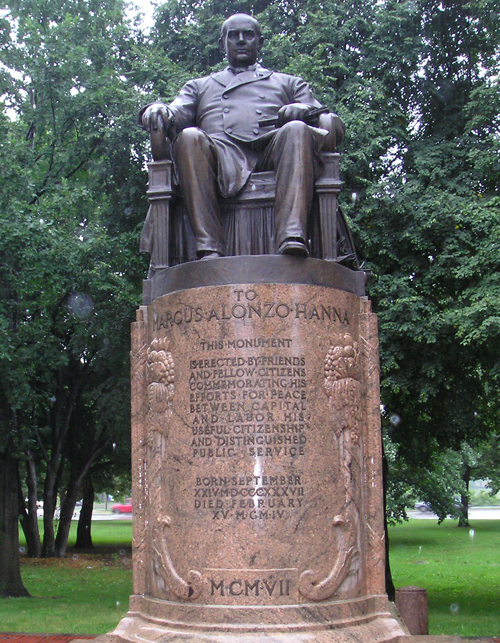 After McKinley's assassination in 1901, Senator Hanna worked for the building of a canal in Panama, rather than elsewhere in Central America, as had previously been proposed. 
The statue of Marcus Hanna in University Circle was sculpted by the famous Augustus Saint-Gaudens.  It is just North of Chester and West of Euclid.