John Heisman was a player and coach of football, basketball, and baseball. But of course he is best known for the Trophy that bears his name.
He served as the head football coach at Oberlin College and many others including a 1917 national championship with the Georgia Tech Yellow Jackets.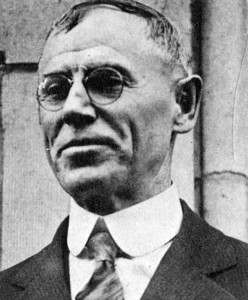 Heisman became the athletics director of the former Downtown Athletic Club in Manhattan, New York. In 1935 the club began awarding a Downtown Athletic Club trophy for the best football player east of the Mississippi River. On December 10, 1936, just two months after Heisman's death on October 3, the trophy was renamed the Heisman Memorial Trophy and is now given to the player voted as the season's most outstanding collegiate football player.
The Ohio Historical Society marker reads: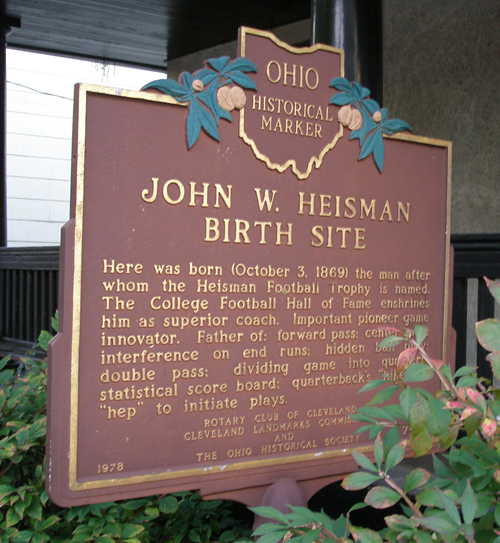 Here was born (October 3, 1869) the man after whom the Heisman Football Trophy is named. The College Football Hall of Fame enshrines him as superior coach. Important pioneer game innovator. Father of: forward pass; center snap; interference on end runs; hidden ball play; double pass; dividing game into quarters; statistical score board; quarterback's "hike" or "hep" to initiate plays.
It was erected in 1978 by the Rotary Club of Cleveland, the Cleveland Landmarks Commission, and the Ohio Historical Society.
The marker is not actually in front of the Heisman birth site. Due to a street number change, the marker was placed in front of the wrong house – the actual house on the location of his birth site is .4 miles away, on the opposite side of the road.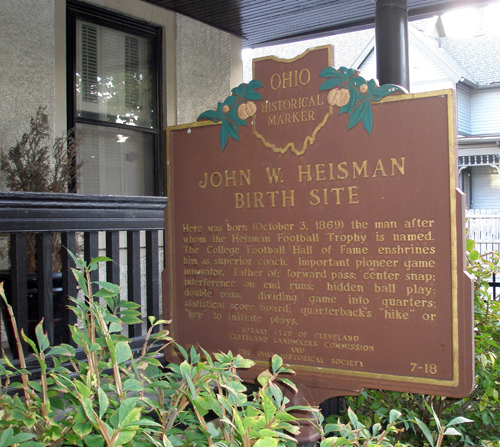 Heisman's birthplace is at 3928 Bridge Avenue. The change of location is especially notable as the structure in question at 3928 appears to be the actual house that Heisman was born in, whereas the one that the marker is in front of was built at a later date.
The marker is at the intersection of Bridge Avenue and West 29th Place, on the right when traveling east on Bridge Avenue.