Jim Brown is arguably the greatest running back in NFL football history and maybe the greatest player ever.
Jim Brown had a record-setting nine-year career as a fullback for the Cleveland Browns of the National Football League (NFL) from 1957 through 1965. In 2002, he was named by Sporting News as the greatest professional football player ever.
Brown was taken in the first round of the 1957 NFL draft by the Cleveland Browns, the sixth overall selection. After only nine years in the NFL, he departed as the NFL record holder for both single-season (1,863 in 1963) and career rushing (12,312 yards), as well as the all-time leader in rushing touchdowns (106), total touchdowns (126), and all-purpose yards (15,549).
He was the first player ever to reach the 100-rushing-touchdowns milestone, and only a few others have done so since, despite the league's expansion to a 16-game season in 1978 (Brown's first four seasons were only 12 games, and his last five were 14 games).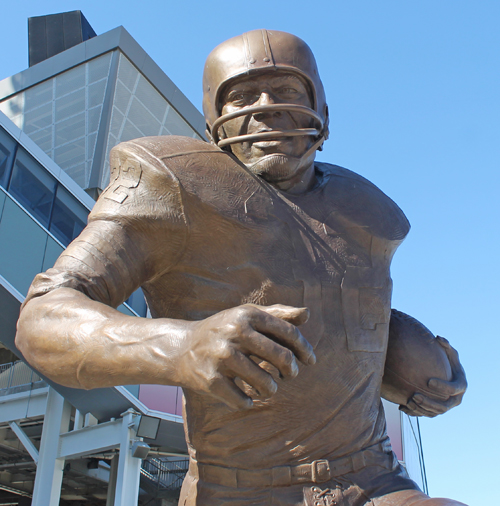 Brown holds the record for total seasons leading the NFL in all-purpose yards (5: 1958–Jim 1961, 1964), and is the only rusher in NFL history to average over 100 yards per game for a career. In addition to his rushing, Brown was a superb receiver out of the backfield, catching 262 passes for 2,499 yards and 20 touchdowns, while also adding another 628 yards returning kickoffs.
Every season he played, Brown was voted into the Pro Bowl, and he left the league in style by scoring three touchdowns in his final Pro Bowl game. Perhaps the most amazing feat is that he accomplished these records despite not playing past 29 years of age. Brown's 6 games with at least 4 touchdowns remains an NFL record. Brown led the league in rushing a record eight times. He was also the first NFL player ever to rush for over 10,000 yards.
During Jim Brown's career, the Cleveland Browns won the NFL championship in 1964 and were runners-up in 1957 and 1965, his rookie and final season, respectively.  While others have compiled more prodigious statistics, when viewing Brown's standing in the game, his style of running must be considered along with statistical measures. He was very difficult to tackle (shown by his leading 5.2 yards per carry), often requiring more than one defender to bring him down.
Brown retired in July 1966 after only nine seasons as the NFL's all-time leading rusher and is honored with this statue outside Cleveland Browns First Energy Stadium.