Jesse Owens was a four-time Olympic gold medalist in the 1936 games in Berlin which was a slap in the face of Adolph Hitler.
His family moved to Cleveland when Jesse was 9. Jesse Owens' name was actually James Cleveland Owens and the James Cleveland became JC which became Jesse when a teacher couldn't understand his southern accent.
Owens first came to national attention when he was a student of East Technical High School in Cleveland; he equaled the world record of 9.4 seconds in the 100-yard (91 m) dash and long-jumped 24 feet 9 1⁄2 inches (7.56 metres) at the 1933 National High School Championship in Chicago.
Owens attended Ohio State University and was known as the "Buckeye Bullet,"  His achievement of setting three world records and tying another in less than an hour at the 1935 Big Ten track meet in Ann Arbor, Michigan, has been called "the greatest 45 minutes ever in sport" and has never been equaled.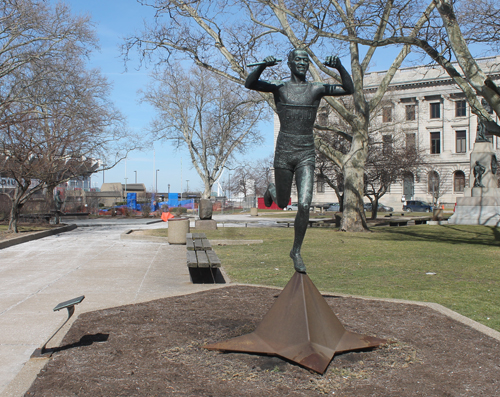 At the 1936 Summer Olympics in Berlin, Germany, Jesse Owens won international fame with four gold medals: 100 meters, 200 meters, long jump, and 4 × 100 meter relay. He was the most successful athlete at the games.  So much for Hitler's "Aryan supremacy."
Owens was visited in the Olympic village by Adi Dassler, the founder of the Adidas athletic shoe company. He persuaded Owens to wear Gebrüder Dassler Schuhfabrik shoes, the first sponsorship for a male African American athlete.
After a ticker tape parade celebrating the Olympics in New York, Owens was not permitted to enter through the main doors of the Waldorf Astoria New York and instead forced to travel up to the event in a freight elevator to reach the reception honoring him.
President Franklin D. Roosevelt (FDR) never invited Jesse Owens to the White House following his triumphs at the Olympics games. While the Democrats had bid for the support of Owens, Owens rejected those overtures: as a staunch Republican, he endorsed Roosevelt's Republican opponent, Alf Landon, in the 1936 presidential race.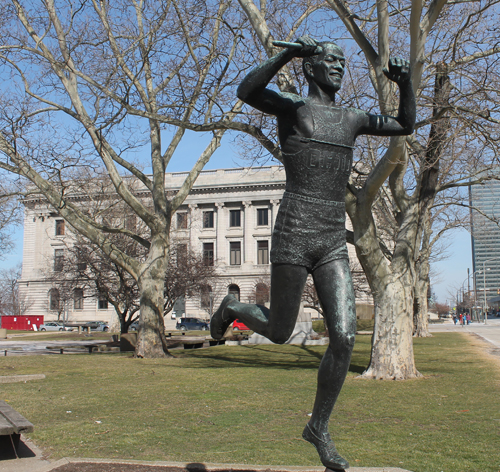 He has been called the greatest and most famous athlete in track and field history. Jesse Owens was ranked by ESPN as the sixth greatest North American athlete of the twentieth century and the highest-ranked in his sport.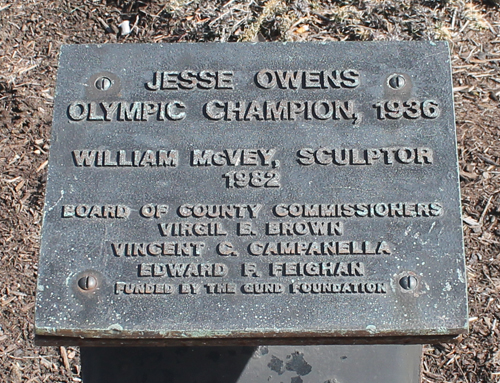 The Jesse Owens statue in Cleveland can be found at the corner of West 3rd and Lakeside in Huntington Park.