Frank Robinson is known as the only major league baseball player to win league MVP honors in both the National and American Leagues.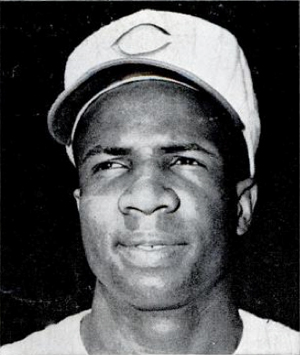 He also won the Triple Crown, was a member of two teams that won the World Series, and amassed the fourth-most career home runs at the time of his retirement. Robinson was elected to the Baseball Hall of Fame in 1982.
Robinson managed in the winter leagues late in his playing career. By the early 1970s, he had his heart set on becoming the first black manager in the majors. The Angels traded him to the Cleveland Indians midway through the 1974 season.
In 1975, the Indians named him player-manager, giving him distinction of being the first black manager in the Majors.
In storybook fashion, in his first at bat as player/manager of the Indians, he homered at Cleveland Stadium off Yankees pitcher Doc Medich.
He managed the Cleveland Indians during the last two years of his playing career, compiling a 186–189 record. He went on to manage the San Francisco Giants, the Baltimore Orioles, and the Montreal Expos/Washington Nationals. Currently he is the honorary President of the American League.
The marker at Progressive Field is at 2401 Ontario St, Cleveland, OH 44115