Dorothy Fuldheim was a pioneering journalist and news anchor, spending the majority of her career for The Cleveland Press and WEWS-TV, both based in Cleveland, Ohio. She has been referred to as the "First Lady of Television News." 
Dorothy Fuldheim is credited with being the first woman in the United States to anchor a television news broadcast as well to host her own television show.
She started in radio hosting a biography program for WTAM, and eventually the ABC Radio network, where she was their first female commentator.  Fuldheim conducted rare interviews with both Benito Mussolini and Adolf Hitler prior to World War II.
In 1959, Fuldheim, who had been with the station before it even went on air, began to formulate her own newscast in response to the new "Eyewitness News" on KYW, which was the first half-hour newscast in the country.
Fuldheim centered her newscast around her interviews, a general overview of the news, and her commentaries (during which the very opinionated Fuldheim frequently inserted her own opinions about the stories). Fuldheim was the first woman in the United States to have her own television news analysis program.
An historical marker was placed outside WEWS-TV at East 30th and Euclid Ave.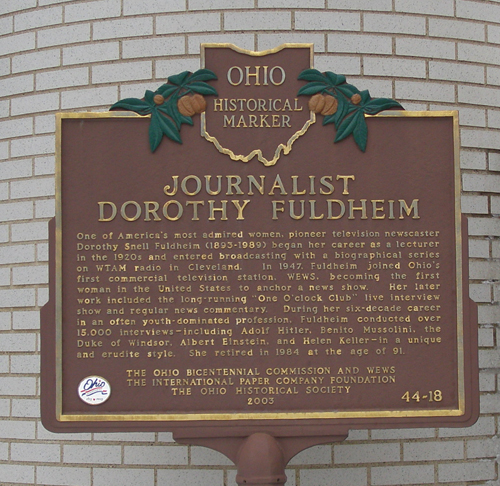 WEWS
3001 Euclid Ave. Cleveland, OH 44115