In July 1947, Larry Doby joined Jackie Robinson in breaking the MLB color barrier as he became the first black player to integrate the American League (AL) when he signed a contract to play with Bill Veeck's Cleveland Indians.
Doby was the first player to go directly to the majors from the Negro leagues. A seven-time All-Star center fielder, Doby and teammate Satchel Paige were the first African-American players to win a World Series championship when the Indians won in 1948.
He helped the Indians win a franchise-record 111 games and the AL pennant in 1954, finished second in the AL Most Valuable Player (MVP) award voting and was the AL's RBI leader and home run champion.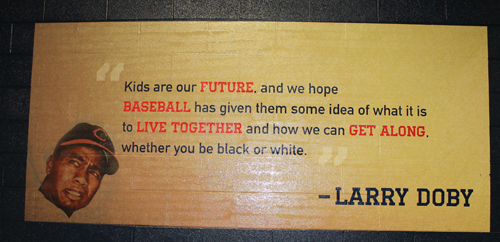 Doby later served as the second black manager in the majors with the Chicago White Sox, and in 1995 was appointed to a position in the AL's executive office.
He also served as a director with the New Jersey Nets of the National Basketball Association (NBA). He was selected to the National Baseball Hall of Fame in 1998 by the Hall's Veterans Committee and died in 2003 at the age of 79.
This statue and monument is at Progressive Field, home of the Cleveland Indians.  You will also find monuments to Bob Feller and Jim Thome.
The street next to the ballpark was renamed for Larry Doby.
Larry Doby Park Playground
Originally constructed 22 years ago during the inaugural year of the Major League Baseball All-Star Legacy effort during the 1997 All-Star Week in Cleveland, the Larry Doby All-Star Playground has been renovated to include updated equipment and refurbished flooring. Members of the Boys & Girls Clubs of Cleveland – King Kennedy Club and youth in the nearby community will be able to use the Playground as a daily recreational outlet. The ribbon cutting took place with Larry Doby Jr. and Cleveland Indians owner Paul Dolan among others in attendance.