The Cleveland Asian Indian community, and many others, came together Sunday October 1, 2006 for the introduction of the India Cultural Garden and the unveiling and dedication of the Mahatma Gandhi statue.
The Statue of Mahatma Gandhi on the granite pedestal stands 17′ tall. Cleveland is the only city in the world with a large statue of Gandhi on a street named for Dr. Martin Luther King Jr.
Honorable Ronen Sen, Ambassaor of India, welcomed the crowd on behalf of India, the world's largest democracy and home of 1.1 billion people.
He told how when Dr. Martin Luther King Jr. visited India that he was greeted more enthusiastically than any head of state. When asked about this visit to India, Dr King replied that it was not a visit. " I've come here on a pilgrimage to the land of Gandhi."
See more of the Gandhi statue unveiling event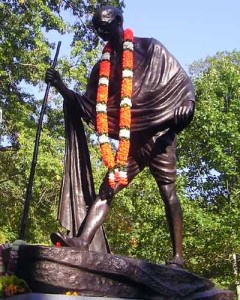 The India Cultural Garden is one of over 30 in the Cleveland Cultural Gardens chain. The India Garden, and the statue of Mahatma Gandhi, are on MLK Blvd. just North of Superior and East Blvd. and on the west side of the street across from the Syrian Cultural Garden.