Irish Famine Memorial – Cleveland remembers the Great Hunger. Ireland's Potato Famine (1845-1850)
The Irish Famine Memorial monument, and surrounding area on the East bank of the Cuyahoga River in Cleveland's Flats, is a memorial to the Great Hunger, the potato famine of the 1840's.  The memorial was dedicated September 16, 2000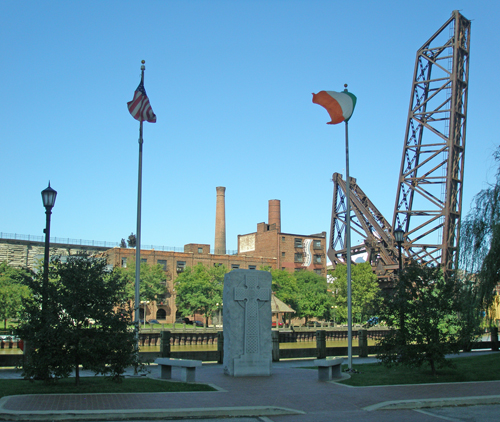 It was created by sculptor Paula Blackman (and carver Eamon D'Arcy.  It was commissioned by the Cleveland Famine Memorial Committee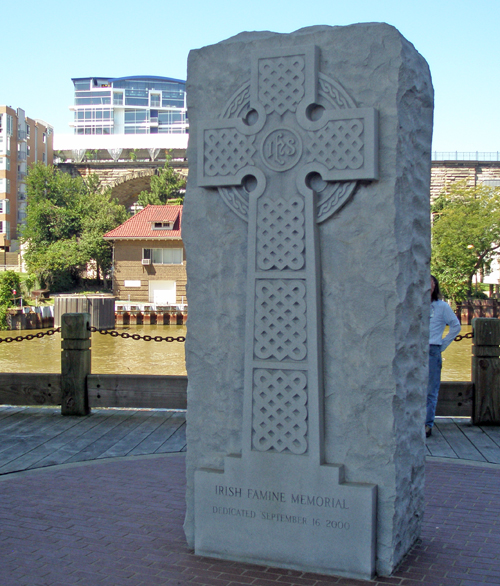 Inscriptions
(Front): Irish Famine Memorial / Dedicated September 16, 2000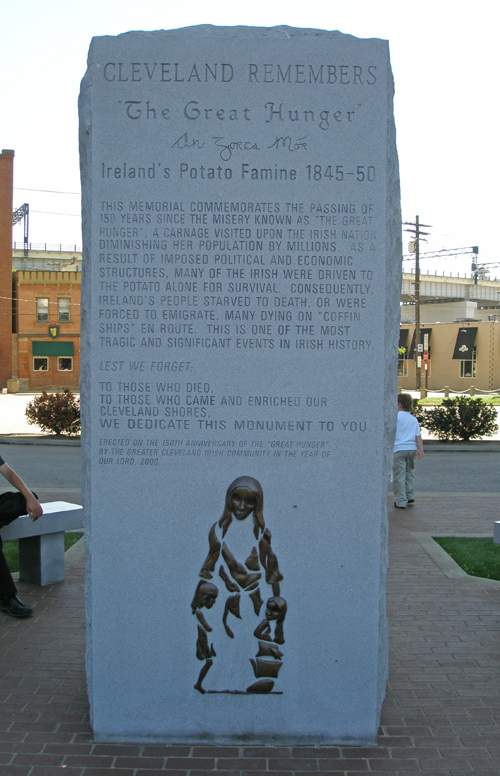 (Reverse): Cleveland Remembers / The Great Hunger / An Gorta Mor / Ireland's Potato Famine 1845-50
This memorial commemorates the passing of / 150 years since the misery known as "The Great Hunger". A carnage visited upon the Irish nation / diminishing her population by millions as a / result of imposed political and economic / structures, many of the Irish were driven to / the potato alone for survival. Consequently, /. Ireland's people starved to death or were / forced to emigrate. Many dying on "Coffin / Ships" en route. This is one of the most / tragic and significant events in Irish history.
Lest we forget: / To those who died, / to those who came and enriched our / Cleveland shores / we dedicate this monument to you.
Erected on the anniversary of the 'Great Hunger' / by the Greater Cleveland Irish Community in the year of / our Lord 2000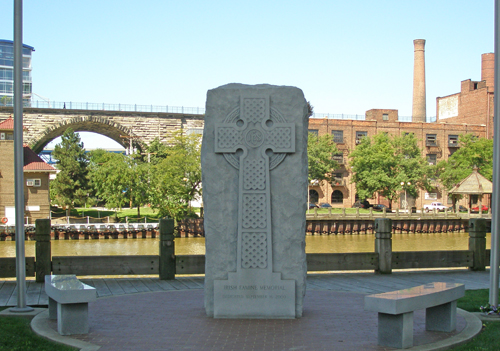 (Ground plaque): The Irish Famine time capsule / containing memories, message and / milestones, placed beneath this marker, / is to be opened on September 16, 2050
It can be found in Heritage Park, Settlers' Landing on the East Bank of the Flats across from the Flat Iron Cafe.