Tyler Elevator Products, originally known as the Cleveland Wire Works, was founded in 1872 by Washington S. Tyler.
Cleveland Wire Works produced quality wire screens, screen machinery, elevator entrances, elevator cars, wire cloth, trellises, and arches out of copper, brass, steel, and iron. The company's innovative 'double crimping' technique, in which the different wires were wrapped around each other for extra centering and support, set it apart from its competitors.
The company's first location was a modest, two-story building on St. Clair Avenue. As the company grew, new buildings were erected on the site at 754-760 St. Clair, creating a company campus. By 1910, the company owned almost all the land between its location on St. Clair and Superior Avenue. Plans were then initiated to complete the expansion to Superior, and land was purchased from Lake Shore Sawmill and Lumber Company. The new, four-story brick building at 3615 Superior Avenue was completed in 1913 with electric lights, steam heat, and cement floors. This building would serve as the company's headquarters until the 1960s.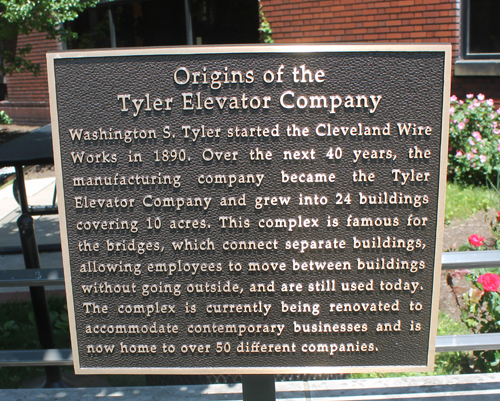 At its height the company owned ten acres of land and 24 separate buildings, connected together by a series of bridges, which allowed employees to move around the complex without going outside. Branches were opened across the United States, and as many as 1,100 workers were employed at the Cleveland factory.