Thomas Alva Edison was the inventor of the incandescent light bulb, the first photograph, and over 1000 other inventions.
On the East Blvd side of the Cleveland Museum of Art stands a light pole that commemorates "The invention of the incandescent lamp by Thomas Alva Edison October 21, 1879.
It was erected by the Cleveland Electric Illuminating Company on October 21, 1929.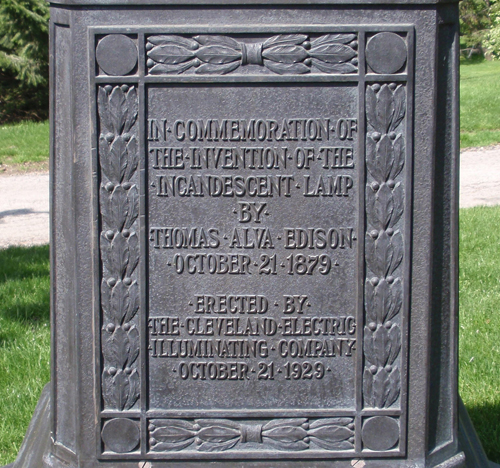 Edison's General Electric Company acquired the Cleveland-based National Electric Lamp Company (NELA) in 1911, which it made the company's lighting division. GE built a sprawling campus in a former vineyard on the east side of Cleveland, today's NELA Park.
Edison was born in 1847 in Milan Ohio – about 57 miles west of Cleveland.  The house where Thomas Edison was born, and lived until he was seven years old, still stands in its original location and has been restored and converted into a museum for Edison artifacts, inventions, and memorabilia.  His birthplace is at 9 N Edison Dr, Milan, OH 44846