The Spirit of '76, depicting a flag bearer, drummer boy, and fifer marching across a battlefield during the American Revolution, is perhaps the most famous painting produced in Cleveland. The 8′ x 10′ oil painting was created by Archibald Willard at the suggestion of Cleveland businessman James Ryder for showing at the 1876 U.S. centennial exhibition in Philadelphia.
Archibald M. Willard was born in Bedford, Ohio in 1836. Bedford is an eastern suburb of Cleveland.  (Halle Berry was a Bedford High alumna)
Willard's family moved to Wellington, Ohio (one county (Lorain) west of Cleveland) in 1855. During the Civil War, Willard served two enlistments in Ohio Volunteer Infantry units; while serving in northeastern Tennessee, he continued to sketched and created oil paintings with military scenes.
In 1875, inspired by a 4th of July parade in Wellington, Willard created a sketch of three musicians. And then a full scale oil painting, using his father as a model, of three musicians marching and triumphantly playing music in the midst of a battle during the Revolutionary War. It was originally titled Yankee Doodle.
The painting's popularity led Willard to paint a minimum of 14 "original" versions. Two copies are held in Cleveland, one at the Western Reserve Historical Society and the second at Cleveland City Hall.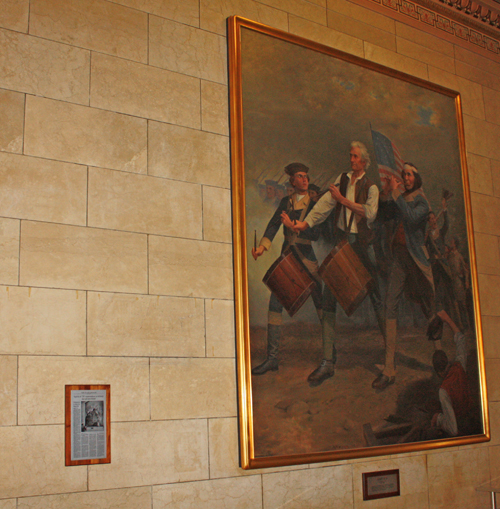 Cleveland Mayor Newton D. Baker commissioned this copy in 1912 and it hangs on the back (North) wall of the Rotunda in Cleveland City Hall.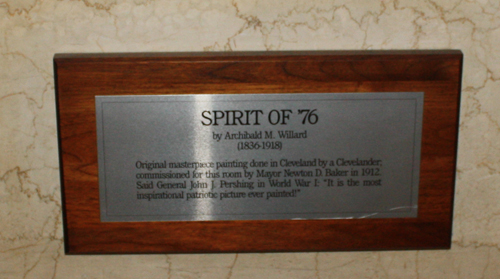 Cleveland City Hall –  601 Lakeside Ave E, Cleveland, OH 44114
The Spirit of '76 Museum is located in Wellington, Ohio. In the museum you will find treasures from Wellington and the surrounding areas throughout the three floors and mezzanine. The original drum and fife used as models in the Spirit of 76 painting are also on display.
201 North Main Street, Wellington OH 44090
St Rt 58 in downtown Wellington